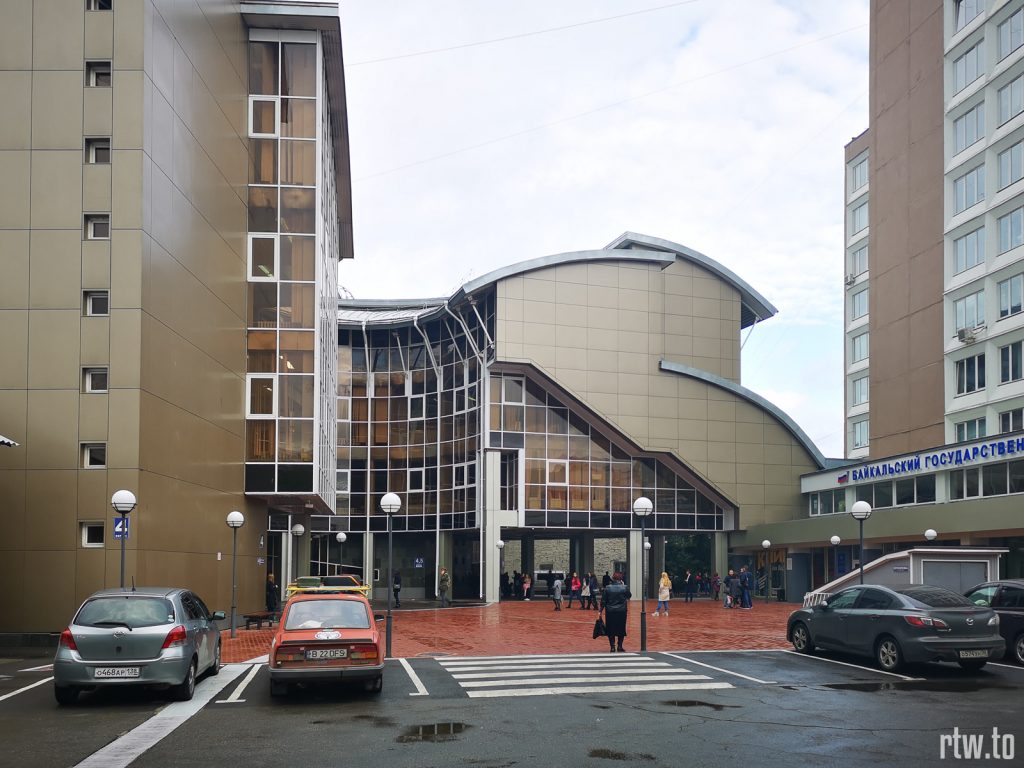 There we were, mid September, my father and me in a parking lot near a university in downtown Irkutsk. We barely made it there from Ulan-Ude. It didn't look good at all. The engine repairs we paid a hefty price for in Ulan-Ude did not fix our problem and the car was limping badly. It was so bad, that the fuel consumption rose to 10 L / 100 km and in addition to that it took 1 L of oil every 100 km, not to mention that the spark plugs needed to be cleaned of oil every 200 km. Knowing all this, it would've cost us around 3000 EUR just to get the car out of Russia, together with the headaches of cleaning the spark plugs on the way.
At this time, you might wonder why not just abandon the car in Russia and fly out? Well, when you get into the country, you get a TIP (temporary import permit) for the car that says the car needs to get out of the country before the deadline that's given at entry. Our deadline was 1 year from entry. If you don't do this, you choose between having to pay around 5000 EUR of import taxes or getting banned from obtaining Russian visas in the future.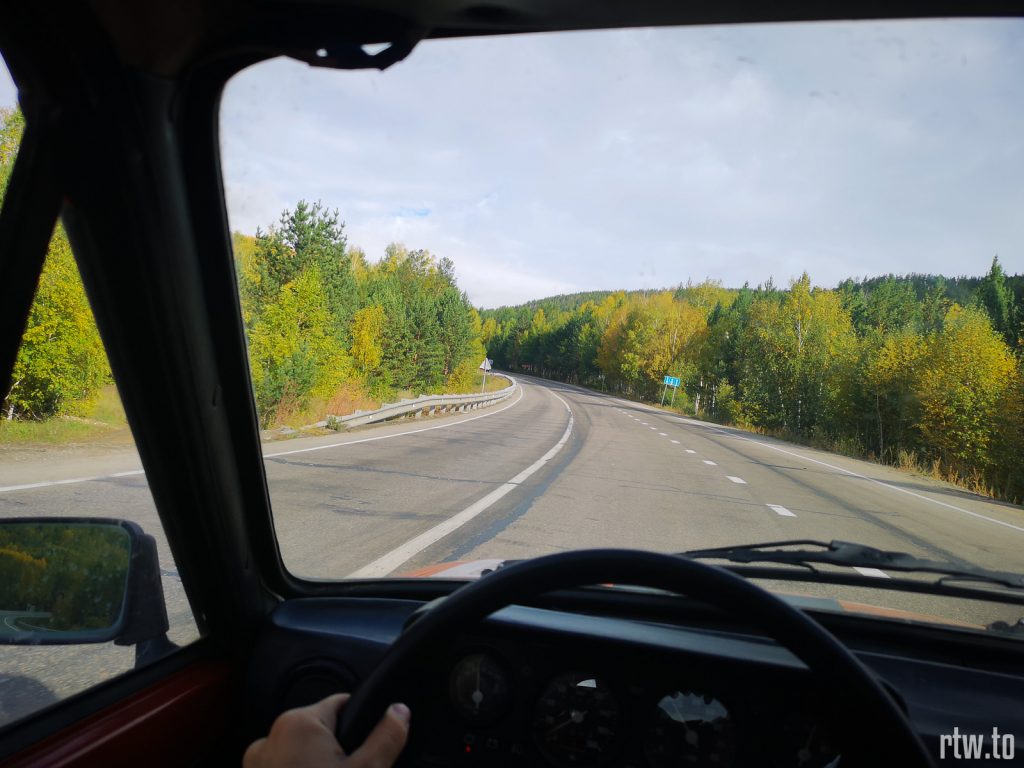 What was supposed to be a relaxed drive across Russia (we both had plenty of time on our visas) turned into a search for a way to ship the car as cheaply and as fast as possible. The Adventurists, which organized the Mongol Rally quoted us around 1600 EUR for this, which was the deposit we paid ahead of the rally, which to me seemed a giant price at that time.
The car started having more problems, with the clutch this time; the whole car was shaking like crazy when coupling and decoupling the clutch. It later turned out that the pressure bearing was busted. We were fortunate enough to make it to the hostel named хостел Большая Байкальская Тропа, which had a huge parking place nearby, where we kept the car. There were some other car relics around from a car club, so the Skoda was in good company.
After googling for hours in English and having found nothing regarding the shipping of the car, I had the bright idea of switching to Russian. A few searches later, like "автомобильный транспорт иркутск санкт-петербург" or "автомобильный транспорт иркутск москва", I bumped into a website that looked promising, https://titantransauto.ru. Of course, Google Translate was my friend all the time because I don't speak Russian at all, all I could do was read Cyrillic.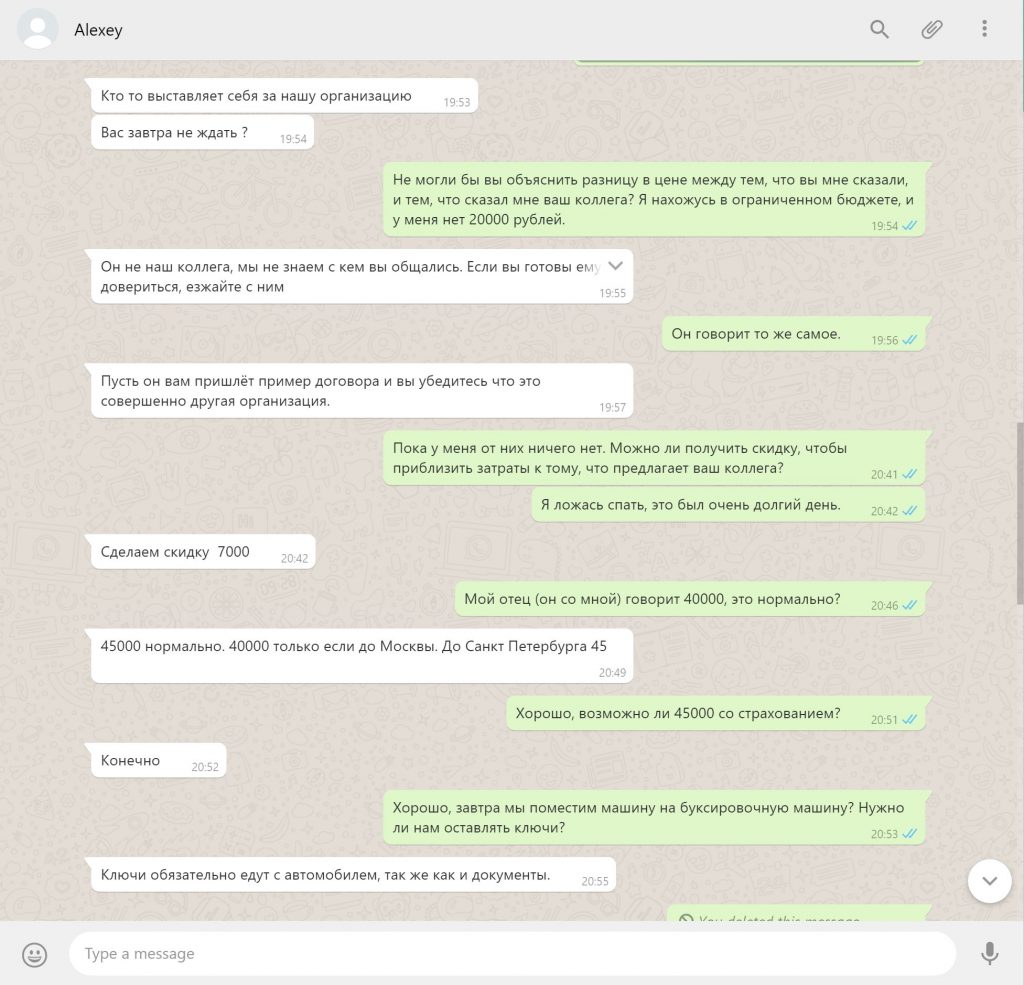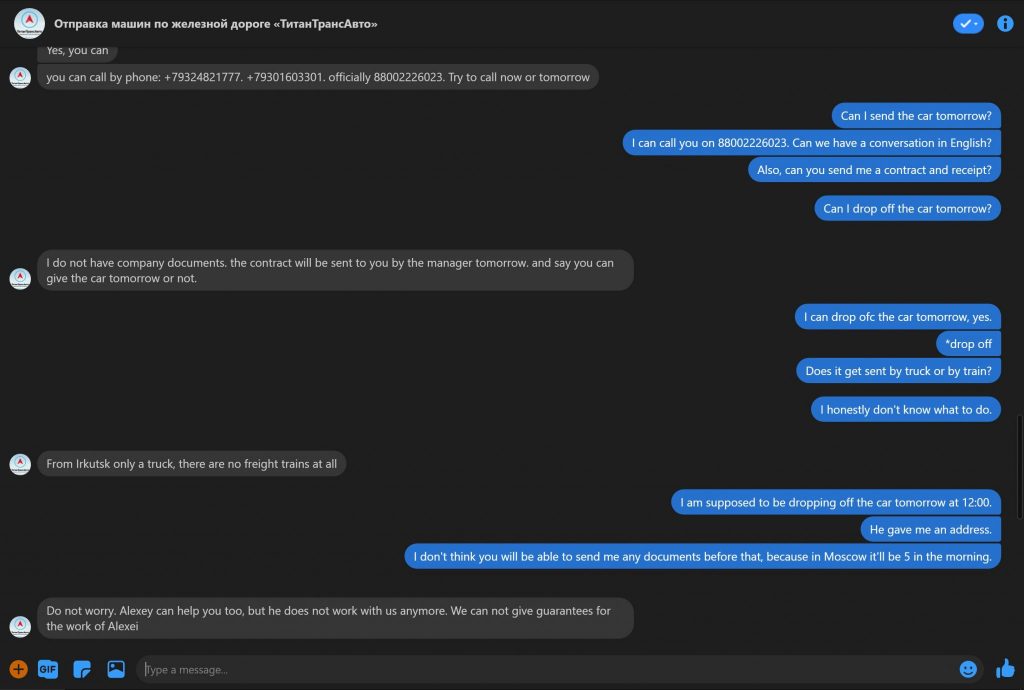 I've sent them an email asking for a quote to send the car from Irkutsk to Saint Petersburg and I also tried reaching out on their Facebook page. I got two different quotes, one for 55000 RUB (~800 EUR) from Alexey on Whatsapp and one for 35000 RUB (500 EUR) from another guy, on Facebook Messenger. To be honest, I didn't know what to think of it, it looked like a scam. The guy on Messenger even said "Do not worry. Alexey can help you too, but he does not work with us anymore. We can not give guarantees for the work of Alexei". Which one is the real thing and why did Alexey have access to my email in the first place?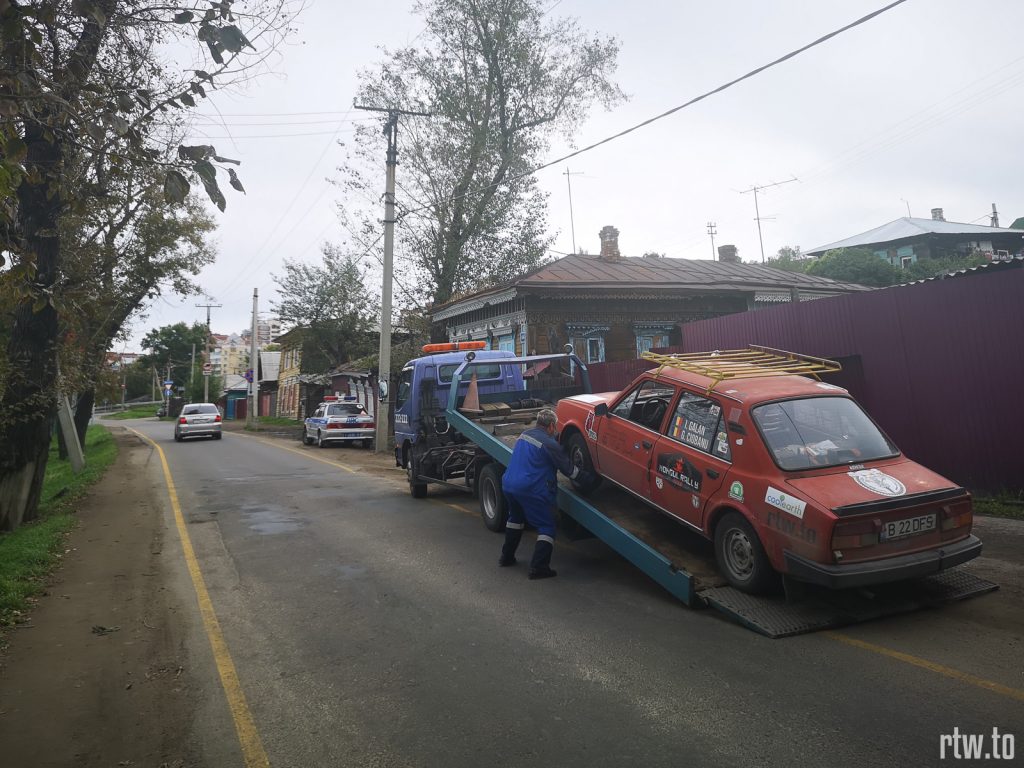 Anyway, I decided to negotiate, sent Alexey the quote I got from the other guy and he lowered the price to 45000 RUB, which was around 140 EUR less than the initial quote. Still more than the 35000 RUB the other guy quoted, but at least we had agreed on a date for shipping and we had a contract.
Fast forward to the shipping day, we tried leaving the parking lot with the car, but the clutch was broken and we couldn't shift gears. We had to tow the car to the truck that was going to carry the car all the way to Saint Petersburg. After that, we got the contract, we left the keys, explained all the quirks of the car to the driver and went back to the hostel by bus. They said the car would be delivered to Saint Petersburg in around 10 days.
We bought tickets on the Trans-Siberian train from Irkutsk to Moskow, then visited Moscow and Saint Petersburg. I booked flights home for my father because his visa was running out.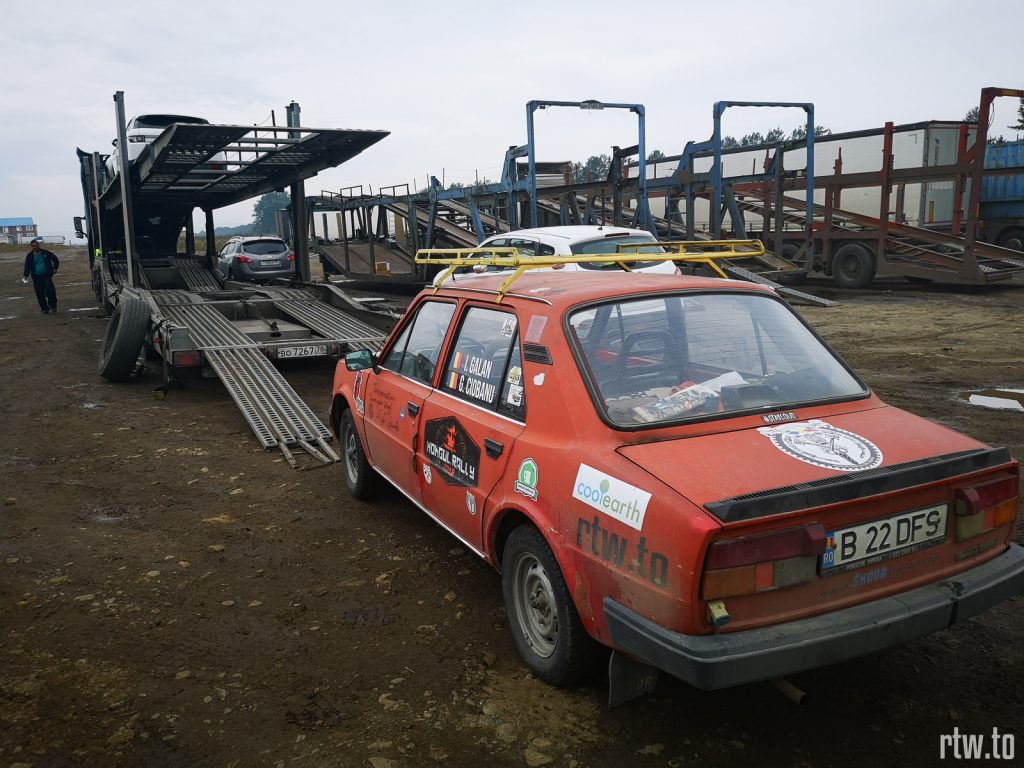 In Saint Petersburg, making it to the car yard was supposed to be easy. We had the address, we put it on Yandex Taxi and then we got a taxi there. Unfortunately, the car was nowhere to be seen in that residential area. We found out the hard way that in Russia, there can be two addresses with the same exact identifiers. In the end, we made it to the car yard, which was in another suburb, some 30 minutes away by taxi.
Getting the car out of the car yard was another adventure in itself. With no clutch and the engine stopping while idling, I had one shot of taking it to a mechanic. We push-started it in second gear and I went through two large intersections Russian-style, without stopping. Then I stopped the car in the wrong place, in the parking lot of a large company because I couldn't exactly figure out where that car service was. It started raining and two other guys pushed me again to reach the final spot, the car shop. After talking, they agreed to fix the clutch, a fix that was needed to get me and the car out of Russia. The reviews on Yandex Maps for the service did not look promising at all; everybody was complaining that the service was slow to fix the problems. Boy, were they right.
I got some accommodation within walking distance at a student dorm (http://ioverlander.com/places/77718-cheap-student-dorm) and the waiting game began. After some days of waiting for a clutch pressure bearing that didn't fit, I was getting more and more eager to get back home. I booked some low-cost flights to Suceava from Tallin via London and I basically set that as a deadline to be done with the car.
Fortunately, I managed to craft plan B, in case the car couldn't be repaired. I started asking people on Blabla if they could tow me from St. Petersburg to the border with Estonia and, of course, they all refused. Then, after asking on the Mongol Rally Whatsapp group, I got help from Andrew, who I can't thank enough. He participated in that year's rally with a Lada and had returned to St. Petersburg. Planets aligned and he was able and willing to rope-tow me to Estonia. Artem, a friend I met while working in Ireland that was originally from Estonia said his parents had a holiday home not far from the border, so that's where I was heading if things went south.
The mechanics managed to fix the clutch, by welding two parts and one evening, I took the car for a test. Everything worked as expected, they wanted more money than initially discussed, I refused to give them more and then went on my way. As I was trying to start the car which was parked in front of the car shop, the clutch went limp, as it did another time during the rally. I went back inside, they took a look and said the hydraulic fluid was leaking and that they were not going to help me fix it. However, they did help me refill the system and I made it to the dorm I was staying at.
One rainy September day, Andrew and a friend of his came in a newer Opel Astra and rope towed me from Saint Petersburg to Sillamäe, Estonia. Being towed on the highway is not fun at all. Heck, being towed is not fun at all, period. We still had to do this for around 180 km. Moreover, the two cars couldn't be connected via the tow rope while crossing the border, so I had to push the little Skoda little by little through the Russian customs in shitty rainy weather and then through the Estonian ones. Of course, they didn't just let me enter the country (and the EU) just like that. I had to lie and tell them I couldn't find parts for the car in Russia, that I was going to repair it in Estonia and so on. In the end, I was able to push the car into Estonia and tow it to the final destination of Sillamäe, a seaside village near Narva.
Andrew took me to Tallin, where I booked an Airbnb while on the way. Next day, I flew to London, stayed with a friend there and then flew home. That was the end of the Mongol Rally in 2018 for me and the Mosquito Stallion team.
What did we do with the car, you might wonder? We managed to get vouchers worth 2000 EUR for it after getting it scrapped, but more on that in another post.
---
---
You might also like
---